Connecticut State Police K9 Jack Captures Domestic Violence Suspect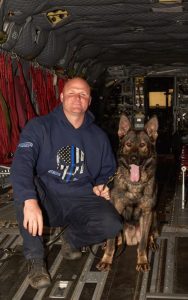 On the morning of November 24, 2019, at approximately 1:22 AM, Trooper Kelo and his K9 partner Jack responded to a residence in Stonington to assist the Stonington Police Department with locating a male suspect who caused a disturbance and damaged property. The suspect then took off on foot.
Trooper Kelo and K9 Jack, a four-year-old German Shepherd, arrived at the residence shortly after. A track was initiated that led deep into a wooded area. K9 Jack and his handler tracked over 500 yards, going through numerous backyards until entering the forest. The suspect was located in dense cover hiding behind a tree and was apprehended.