Motorcycle Collision Avoided When Rider Lays Own Bike Down
This article was published on: 07/15/20 10:02 PM by Mike Minarsky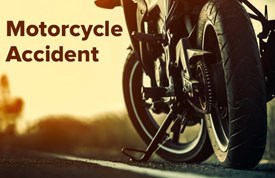 On July 15, 2020, at approximately 3:32 p.m., members of the Plainfield Police Department, Plainfield Fire Department and American Ambulance responded to a single car motor vehicle crash on Norwich Road.
55 year old Brian E. Toof was operating a 1989 Harley Davidson FXSTS southbound on Norwich Road. 43 year old Nicole E. Toof  was a passenger on the motorcycle. Brian indicated that he heard noise coming from his motorcycle, causing him to check the engine area. Brian indicated that when he looked up, he realized he was going to strike a motor vehicle in front of him. Brian performed emergency braking, laying his bike down to avoid collision with the other vehicle.
It should be noted that this crash occurred in a work zone.
Brian refused medical treatment. Nicole was subsequently transported to the Plainfield Backus Emergency Department by the American Ambulance for treatment of minor injuries.
This crash remains under investigation.