Moosup Man Pulled Over for Speeding, Gets Arrested After Drugs Detected By Plainfield K-9
This article was published on: 01/16/20 5:47 PM by Mike Minarsky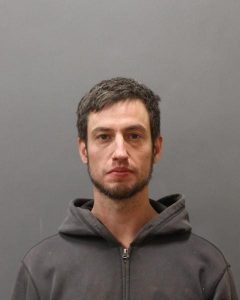 On January 16, 2020 at approximately 11:25 P.M., the Plainfield Police Department arrested Chad Tatsey, 36, of Moosup.
While on patrol in the area of Olearos Hill Rd. in Moosup an Officer observed a blue Pontiac traveling over the posted speed limit.
A motor vehicle stop was conducted and through investigation the Officer became suspicious that Tatsey was in possession of illegal drugs.
The Officer and his K-9 Vail, a male yellow Labrador trained in narcotics detection was used to sniff the vehicle where K-9 Vail alerted to the presence of narcotics. A subsequent search of the vehicle was conducted where Tatsey was found to be in possession of Fentanyl and Crack Cocaine.
Tatsey was placed under arrest and charged with two counts of Possession of Narcotics, Possession of Drug Paraphernalia and Traveling Unreasonably Fast. Tatsey was released on a $10,000.00 bond and is scheduled to be arraigned at the Danielson Superior Court, G.A. 11, on January 27, 2020.