Maya Waldron Tosses Shutout Against Rival Waterford Lancers
This article was published on: 05/4/17 3:35 AM by Mike Minarsky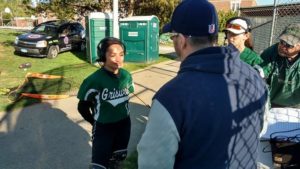 No matter what, you're always going to get a well played game when you go to see a softball contest between Griswold and Waterford.  Both teams are always competitive and well coached.  It's certainly a pleasure to watch these teams collide because you really don't know how it's going to turn out.  It could go either way.
Both teams today came in ranked high in Max Preps polls.  Griswold ranked #1 and Waterford is ranked #7 in the state.  Maya Waldron, who has been the ace of the Wolverine squad this season came into today's game with a pitching record of 9-0 and has only given up one run in her last 18 innings pitched.  Ashley Goldstein, Waterford's starting pitcher is having a good year on the hill, just not a "Waldron" kind of year.  
Waldron had a little difficulty out of the gate.  Giving up a double to Ciana Chiappone with 2 outs and threw more pitches than she normally does.  The Wolverines came out of the gate fast in the bottom half of the 1st scoring 2 runs as Shay Sauvageau led off with a double and then Kamryn Gurnee singled.  Sauvageau then scored on a fielder's choice as Waldron bounced to the mound.  The next batter was Brooke Rainville who plated Gurnee on a sacrifice.  Griswold got 2 more in the 3rd on consecutive base hits by Sauvageau, Gurnee, and Waldron, Rainville, and Kaitlyn Davis.
Maya Waldron got stronger as the game went on, and a bit of a rocky start, or as rocky of a start that we have seen all season long from the Wolverines Hurler.  Waldron only allowed a tough Waterford team 5 hits, giving up no runs, striking out 5 and walking only 1.  Waldron has now pitched 24 scoreless innings out of her last 25.  
Wolverines Shutout the Waterford Lancers, 4-0.  Griswold remains undefeated at 13-0 and Waterford drops to 9-3