Maya Waldron Does It With The Bat and the Pitching Arm to Beat Lyman
This article was published on: 05/21/17 3:16 AM by Mike Minarsky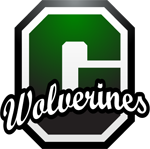 It was Senior night for the girl's softball team on Saturday and the Wolverines were looking to go a perfect 20-0 on the season.  Even though it was senior night, the team was led by Junior Maya Waldron in this game.  Waldron took the mound and set down the Lady bulldogs of Lyman in the first 1-2-3 with a strikeout, then she did it with the bat in the bottom of the first with a 2 out double which then led to a Brooke Rainville double to score Hannah Clark who subbed in as the courtesy runner for Waldron.  That was all the scoring until the bottom of the 5th.  Waldron was cruising along on the hill spinning a No-Hitter through 5 innings of work.  The Wolverines extended their lead in the home half of the 5th with a lead off double by Julia Janca, Shay Sauvageau reached base as she was hit by a pitch, and Kamryn Gurnee reached on an error.  That brought up Waldron who singled in 2 runs and the Wolverines took a 3-0 lead.  Later on in the inning, Madison Labossiere grounded out to Lyman shortstop Katy Konow as Gurnee scored making it 4-0.
Lyman broke up the no hitter in the top of the 6th when Lexi Luft singled to right then Katy Konow reached on an error by 3rd baseman Sara Aviles.  Nicole Bibeau reached next on the Wolverines 2nd consecutive error, this one by Shay Sauvageau at short.  Meese then singled to to center to score Lexi Luft giving Lyman their first run of the game.  Wolverines got one more in the bottom of the 6th when Shyla Krick scored on a sacrifice to the pitcher off the bat of Sauvageau making the final score 5-1.
Waldron gets a complete game victory, gives up only 2 hits, 1 run, striking out 12 Lyman Batters.  She also went 3-3 with 2 RBI's.  Katee Meese pitched a great game for Lyman holding the Wolverines powerful offense to only 1 run in the first 5 innings.  The 2 hits for Lyman were collected by Lexi Luft and Katee Meese.