Major Drug Bust in Killingly
This article was published on: 02/13/16 8:51 PM by Curt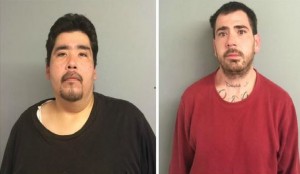 Francisco Fraustro, 39, and David Desjardin, 32, were arrested at their Killingly home on Friday, where police seized 400 bags of sale ready, pre-packaged heroin, several bags of synthetic marijuana, a digital scale, 5 cell phones and approximately $1,300 in cash. According to state police, their home was used to store, process and sell heroin.
Fraustro and Desjardin were arrested without incident and were charged with Possession of Narcotics, Possession of Narcotics with Intent to Sell, and Operating a Drug Factory. Fraustro was also charged with Narcotics Outside of the original container. This was the third time Fraustro has been arrested in the last five months, all for the sale of heroin.
Fraustro and Desjardin were transported to Troop D barracks in Danielson and are being held on $75,000 bail. Both are scheduled to appear in Danielson Superior Court on Tuesday.