Lisbon Resident Trooper: Lisbon Senior Center Burglarized During Early Morning Hours
This article was published on: 08/6/19 4:29 PM by Mike Minarsky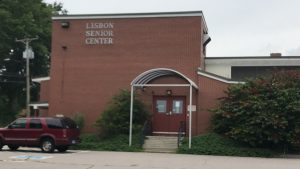 On August 6, 2019 at approximately 1:30 AM, the Lisbon Senior Center was burglarized.  The suspect was photographed and is seen entering the Senior Center via their closed circuit TV system.  The suspect is then seen leaving at approximately 2:17 AM.
The suspect smashed the window to one of the offices and gained access to a sentry safe where an amount of cash was stolen.  Also stolen was the center's transportation van, a 2008 white Dodge Caravan with the Lisbon town seal on the side.  Lisbon Resident State Trooper states via the Resident Trooper's Facebook page that if you see the van, please call 911 immediately.  Also, if you have any information on the whereabouts of the suspect, please contact Resident Trooper Adams at 860-848-6500 EXT 5128
More information will be made as it comes available.