Liquid Plumr Recalled
This article was published on: 07/17/16 10:06 PM by Curt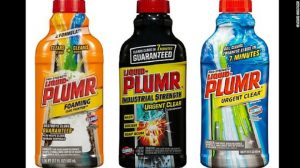 The Clorox Company has recalled 5.4 million bottles of Liquid Plumr. Three types of the clog remover fall under the recall including: Liquid Plumr Pro-Strength Foaming Clog Fighter, Liquid Plumr Industrial Strength Urgent Clear and Liquid Plumr Pro-Strength Urgent Clear.
The caps on these bottles, which are required to be child-resistant, are not working correctly and children are able to open them. This is dangerous because Liquid Plumr contains sodium hydroxide, which can irritate the skin and eyes and can cause burns. Which is why the Poison Prevention Packaging Act requires products with this ingredient to be sealed with child-resistant packaging or containers, including lids.
The recalled Liquid Plumr bottles were sold nationwide at stores including Dollar General, Kroger, Lowe's, Target, Walgreens and Walmart, among others. All sales were between January 2012 and May 2016.
Clorox said it's likely the bottles have been used already, but any remaining bottles should be kept out of the reach of children. Anyone with these bottles should contact the Clorox Company for instructions on how to get a refund.