Lanoue Seeking 45th District Republican Nomination as Skulczyck Chooses to Step Aside
This article was published on: 04/8/18 2:56 AM by Mike Minarsky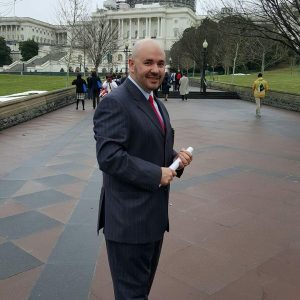 GRISWOLD— Surrounded by friends and family, local man Brian Lanoue on Sunday announced he will seek the Republican nomination for the 45th General Assembly District seat serving residents of Griswold, Lisbon, Plainfield, Sterling and Voluntown.
"I'm eager to join folks in Hartford who have fought tooth and nail to get our state's budget and job market pointed in the right direction," said Lanoue, a former competitive power lifter who hold's a Master's Degree in Public Policy. "We can't lift Connecticut out of this economic mess by pursuing policies of the past that landed us here—namely, tax hikes that are making our state a place where it's increasingly expensive to live and run a business."
Lanoue, 36, made his announcement after Rep. Kevin Skulczyck told the news media he intends to focus on his burgeoning restaurant business rather than seeking re-election.
"Simply put—Brian gets it," Skulczyck said. "He knows residents of this district, and people throughout Connecticut for that matter, can't afford a tire tax, or a cell phone tax, or any of the many other tax schemes Democrats in Hartford have floated. Year after year, for as long as a lot of people here remember, those majority lawmakers increased tax after tax yet where did it get us? They left us in a deep hole—we've got massive budget deficits."
Lanoue, employed in school security, also manages property in XXX. He is a former gaming commissioner inspector for the Mashantucket Tribal nation, and previously served as a budget analyst in Rhode Island's House of Representative. Lanoue earned his undergraduate degree in Political Science from Eastern Connecticut State University.
"I love Connecticut—eastern Connecticut. It's where I grew up, where I decided to grow roots, and, now, where I've decided to make a stand and help other people," Lanoue said. "I look forward to telling people what I'm all about, where I think we can take our region and this state if we can just get its finances under control."
Republicans from the district's five towns will choose their party's nominee for the seat in mid-May.