Lady Wolverine's Hit Parade Continues Against St Bernards to Remain Undefeated at 7-0
This article was published on: 04/20/17 1:49 AM by Mike Minarsky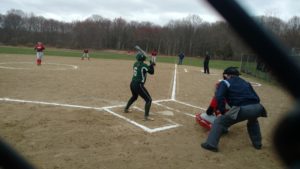 On paper this should have been a much closer game that it was.  Griswold came into today at 6-0 and St. Bernards at 4-1.  Griswold Coach Rick Arremony said before the game, you never know what's going to happen and with his history as a coach and knowledge of the game, I certainly wasn't going to argue with him, especially when I knew he was spot on correct.
Griswold came right out the box leading off the game with a lead off triple by Shay Sauvegeau off of the Lady Saints starting pitcher Sophie Nelson.  Sauvegeau scored when the next batter, Kamryn Gurnee plated her with a sacrifice to first.  The Lady Wolverines scored a pair in the first but opened up the gates in the 2nd inning with 10 runs highlighted by a Shay Sauvageau 3 run HR to center field.  The Saints didn't help themselves in the field though committing a total of 7 errors.  Only 9 of the Wolverines 19 runs were earned.  The Wolverines scored in every inning on Wednesday afternoon.  Griswold used 2 pitchers today using both Maya Waldron and Shyla Krick.  Each of the hurlers helped their causes at the plate as well with Waldron going 3-3 and Krick 4-4.  Everyone in the Wolverine starting lineup had at least one hit today except for Kaitlyn Davis who has been struggling at the plate so far this year coming into the game batting .250
Griswold continues to pitch very well.  Waldron and Krick combined for 9 K's and neither pitcher walked a batter.  St Bernards did get lone runs in both the 4th and 5th inning.  Emily Nelson hit a hard shot to left in the 4th which resulted in a triple and then was brought home on a base hit by Shania Riviere.
Again, on paper this would have called for a much more competitive contest but some unfortunate play in the field attributed to a rough day.  At one point, St Bernard's head coach, Nicole Nelson said jokingly from the 3rd base coaches box "So it took 5 innings for you guys to show up to play today?"  I had to hand it to the Saint's Coach today for being tough on her team when there was a little frustrated dissension affecting her team, but was also the loudest cheerleader her team from the dugout.
Final Score:  Griswold 19  St. Bernard's 2