Killingly Bank Robbery Arrest
This article was published on: 05/2/17 10:40 PM by Mike Minarsky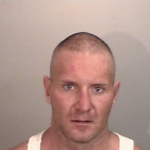 "On May 2, 2017 at 10:00 a.m., Eric Sheridan (06/24/80), who is currently in DOC custody, was arrested and served with an arrest warrant for the crimes of Robbery 2nd and Larceny 3rd for his involvement in the below incident. Sheridan was presented on May 2, 2017 GA. 11 in Danielson.
On January 24, 2017, Troopers from Troop D responded to the Putnam Bank located at 125 Wauregan Road in Killingly for an active robbery.
Upon arrival, Troopers spoke with bank personnel who stated that a white male suspect entered the bank at approximately 12:45 p.m., walking up to the bank teller with a hand written note on a napkin which said "this is a robbery give me your 20s and 50s and lower drawer I have a gun!" The suspect took the money and exited the bank getting into a red four-door compact sedan traveling southbound on Route 12 in Killingly.
Eastern District Major Crimes was requested and responded to the scene conducting the investigation. Detectives worked with local, federal and other state agencies developing two suspects, Eric Sheridan (06/24/80) and Rachelle Winter of 109 ½ Smith Street in Putnam, CT. The two suspects were captured by State Troopers after committing their 6th robbery in Falls Village, CT on 02/16/2017."
Source: CSP Press Release 5/2/17