Jewett City Savings Bank Foundation Announces Awards for Organizations Dedicated to Arts and Culture
This article was published on: 02/13/20 10:25 PM by Mike Minarsky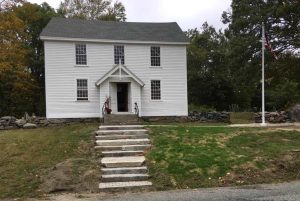 JEWETT CITY, CONNECTICUT, February 13, 2020… Kevin Merchant, president and CEO of Jewett City Savings Bank, has announced that the Bank's charitable foundation has awarded $2,000 to two non-profit organizations dedicated to arts and culture. Pomfret-based Opera New England of Northeastern Connecticut, Inc., was awarded $1,000 to help fund the Children's Educational Opera and Symphony, a program that provides performances to elementary school children.
Also receiving a $1,000 grant was the Preston Historical Society, which will use the funds to build and install a railing for the walkway to the Long Society Meetinghouse, one of just a dozen surviving colonial meeting houses, and the only one of its kind in Connecticut.
"We're delighted to have the opportunity to support these local organizations that help enrich the lives of people in the communities that we serve," said Merchant.
During this most recent round of funding, the Jewett City Savings Bank Foundation awarded 66 grants totaling $77,000 to 56 local organizations. With these most recent donations, the Foundation has donated more than $900,000 in grants since it was established in 2003.
Jewett City Savings Bank is a mutual savings bank operating full-service offices in Jewett City, Brooklyn, Dayville, Pawcatuck, Plainfield, and Preston, with online banking services at JCSBank.com.
Established in 1873, the Bank was voted Best Bank in Windham County by readers of The Bulletin in 2019 and the Best Community Bank in Connecticut by readers of The Commercial Record in 2019, 2018, 2017, 2016, 2015 and 2014.
###
The Preston Historical Society will use funds from a Jewett City Savings Bank Foundation grant to build and install a railing for the walkway to the Long Society Meetinghouse.