Jewett City Man Arrested in Plainfield 2 Times In One Week
This article was published on: 10/18/18 8:19 PM by Mike Minarsky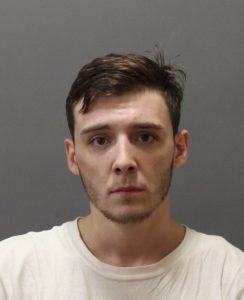 On October 15th, 2018 at approximately 9:49 p.m., a member of the Plainfield Police Department observed a red Saturn traveling eastbound on South Main St.  At that time the officer observed that the vehicle did not have a front license plate.  The officer initiated a motor vehicle stop on Pond St.  Upon making contact with the male operator he was identified as Michael J. Murtha (25 yrs. of age) of Jewett City who also had a suspended license.
During the interaction Murtha revealed there was narcotic drug paraphernalia within the vehicle and was asked to step out. Murthawas also in possession of drug paraphernalia which he tried to conceal in his sneakers. A subsequent search of the vehicle resulted in a quantity of fentanyl being located within the vehicle.
Murtha was placed under arrest for possession of narcotics,possession of drug paraphernalia, failure to display front license plate, and operation of a motor vehicle while under suspension. Murtha will appear for arraignment in the Danielson Superior Court on October 29th, 2018 to face the criminal charges.
On October 18, 2018, at approximately 11:00 a.m. Murtha was subsequently arrested a second time for operation a motor vehicle under suspension and is scheduled to appear at court for October 29th, 2018.