Jewett City Little League 9/10 Yr Old All Stars Can Hold Their Heads High
This article was published on: 07/30/19 2:25 AM by Mike Minarsky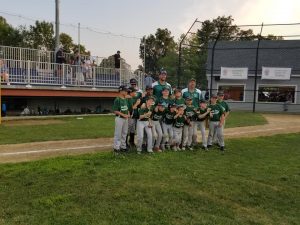 The Jewett City Little League 9/10 year old All Stars did everything that was expected of them and so much more in 2019. First they take District 11, then Sectionals. What's next? Off to the states, where they were one of the final 4 teams left in that age bracket in the entire state. There were 3 others also looking to be called the "best." Southington, Fairfield, and Waterford.
Jewett City drew Waterford in the first round of the double elimination tournament, in which they took the loss after some untimely errors, 6-4. Jewett City then played Southington in the losers bracket since Southington lost to Fairfield in the first round 17-7, which at one point Fairfield led 17-0. Jewett City defeated Southington in the 2nd round to eliminate them, 3-2. With a 1-1 record in the tournament, and Waterford now having the same record losing their game to undefeated Fairfield in the winner's bracket. Jewett City looked for some revenge and they got it avenging their first round loss to Waterford, beating them 7-4 eliminating them.
Jewett City had made the finals to take on Fairfield in the championship game. Fairfield remained undefeated and took the championship. Jewett City 9/10 year old All Stars had a year that each player will never forget. With 169 towns in the state of Connecticut. Each player can proudly say they were one of the top 2 teams in the entire state. That's a memory you can never take away, and it won't go away. Well done, team.