Jenna Allen Starts Jail Sentence, Victim Takes to Social Media
This article was published on: 09/5/17 9:12 PM by Mike Minarsky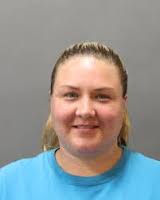 Jenna Allen, who was arrested on September 14, 2015 from an incident that occurred on December 3rd of the previous year, on multiple counts including 1st and 2nd degree reckless endangerment along with 2 counts of possession of a vicious dog was taken into custody earlier today at Danielson Superior Court as she will be serving a 12 month sentence, suspended after 60 days.
An investigation revealed that the victim, Lynne Denning of Canterbury, a self-employed Healthcare Worker, was viciously attacked by 2 dogs while caring for an elderly patient at the home.
There have been numerous attacks as of late, and not all from Pit Bulls.  One, was from a reported 7 month old Labrador on an 11 year old boy in Jewett City just last week.   Denning took to social media on Tuesday commenting on another dog attack in Wauregan on 21 year old Jade Santiago.  Denning states "Bottom line, it's not about the breed, it's about the severity of the attack. I am glad the cops responded to this right away. Unfortunately, these kind of dog owners work together to hide these dogs. The absolute biggest problem in this state, are the antiquated laws regarding "dog bites". What we are experiencing now, is NOT BITES, but mauling's and deaths. What happened to me, should NOT just be a misdemeanor, it should be a felony conviction. I keep asking the judicial system, "what if I had died". No one has an answer. Until these owners are held accountable, with severe punishment, this will never change. Once I am able to, I will be going to Hartford and fight tooth and nail, for laws that fit the crime. It's been almost 3 years, since I was mauled and people are sick of listening to me. I don't care. I don't have much left in my life, but this fight and I will continue speaking out until things change drastically."
Allen's boyfriend, Corey Beakey who was also charged in the case with Reckless Endangerment Second Degree.  He was released on a $10,000 bond.  His next court date is September 20th at Danielson Superior Court.