Grocery Stores Using Different Practices to Combat the Virus, One Was Taking Your Temp
This article was published on: 04/13/20 4:03 PM by Mike Minarsky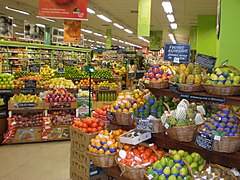 Some Grocery stores are taking precautions before entering their stores. Walmart is lining people up outside of their entrance with an attendant letting people in as another walks out with their purchases.  Aldi Supermarket is  keeping everyone at a 6 ft distance, which are clearly marked with red stripes on the ground before you walk in. Aldi has suspended the practice of inserting a quarter to unlock a shopping cart in favor of an employee handing them over to customers as they come in.  The line starts at Aldi when they are at capacity, as space allows with social distancing and also wipes down your cart for you.
The most controversial though is Better Val-U stores as it's been reported that they are taking your temperature with an infrared thermometer before you enter the store. Local residents have been complaining about this practice online as you can imagine. One complaint is that they are not medical professionals. Another is that it's not even a sanitary practice.  According to one executive with the grocery chain, Shari Palmer, she has stated that they have temporarily discontinued that practice.  Palmer also stated that additional comments would have to come from VP Russ Greenlaw in their Cheshire office.  He was not available to for comment.
SNSN Radio will continue to follow this story as it develops.