Griswold Youth Cheer Program win "Grand Champion" for First Time In Town History
This article was published on: 11/13/17 9:38 PM by Mike Minarsky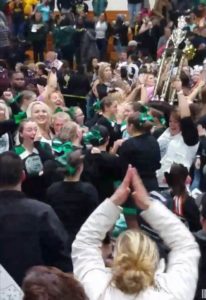 The Griswold Cheer program is very demanding. Long practices which parents made arrangements for the kids to be picked up, sometimes with other kids from the same team. The kids all work very very hard to learn new cheers and ways to motivate the teams they cheer for. The coaches, not much different. Getting ready for practices, choreographing dance moves perfectly for their teams. Both cheerleader and coaches spend countless amount of hours for the season, and of course the Championship competition at the end of the year where teams get to show their talents to other schools and fans that their teams how they would inspire their teams and to show off why they feel they are the absolute best.
Sunday, November 12, 2017 was that day that 70 plus kids got a chance to represent Griswold at the Southern New England Youth Football Conference competition at Waterford high School. "Competition was strong this year" according to cheer director for Griswold youth league, Regina Cunningham. A total of 13 towns competed in 4 different divisions. Those being the micro's, mini's, juniors and seniors. "Each group was divided into small and large divisions, based on how many were on their teams. 15 athletes and under were small. 16-24 were large. Griswold was small division for Mini's and large for the rest" said Shannon Withey via messenger.
Although the competition was fierce in all divisions, only 2 divisions took trophies in the event. The Micros' and Junior's took 4th and 5th place respectively.  Don't worry about the Junior's, even though they finished 5th, they did factor into the event for Griswold. The Griswold Mini's placed 2nd overall in their division but it was the year for the Senior's who finished in the top spot.
But that wasn't all, Griswold also left the competition this year as Grand Champion after seeing Norwich take those honors the last 2 years. "This is the first time in Griswold's history that they have received grand champs, so they are extremely excited!" Withey said of the the winning squad. Grand Champion is awarded to the town's team with the best all around score from all divisions which was a true team effort coming from the micro's, mini's, juniors and seniors. "Honestly i don't even know if there are words to describe the happiest myself and my assistant coaches felt. We told our girls that we didn't care where they placed. As long as they left everything they had on the mat. Those girls work so hard for months to prove themselves for 2 minutes and 30 seconds. Winning not just 1st place but Grand Champs is something they will never forget and so well deserved. They won with heart and grace." stated Senior's Head Coach Jennie Beckwith. Although Norwich had won the event for the last 2 years, Beckwith had kind words to say, "But Norwich does have an amazing program with lots of talented girls. It's nice to see the ability of all athletes."