Griswold Wins Division III ECC Cross Country Championships, 2nd Overall
This article was published on: 10/22/19 7:50 PM by Mike Minarsky
The Norwich Golf Course was the site of the 2019 ECC Boys Country Championships, and things are looking up with the Freshman movement for the Wolverines.  The Strain Triplets, have certainly left their mark in their first season of High School Cross Country.  Lucas, Michael, and Jacob have learned quickly.  Middle School Cross Country is different than High School Cross Country according to GHS coach Kelsey Nixon.  "Their potential is limitless, their talent is simply amazing" Coach Nixon says of the three boys.
Lucas, Michael, and Jacob finished 4th, 5th, and 10th respectively in the championship race.  Seniors Garrett Gasparino and  Adam Schumaker finished 18th and  23rd respectively.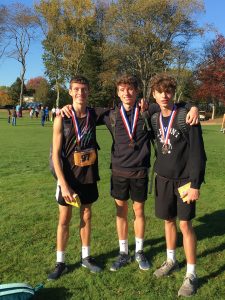 "The boys have worked hard all season for this. We had a plan for the race and the boys stuck with that plan today. Now we are onto the class SS state meet this Saturday where we are looking to place as a top finisher overall." added Nixon.
States will be held at Wickham Park in Manchester.  Race time is 10:55 AM, 10/26/19 (Saturday)