"GRISWOLD" SIGN DESTROYED AT VETERAN'S MEMORIAL PARK – REWARDS OFFERED
This article was published on: 07/16/16 4:58 PM by Mike Minarsky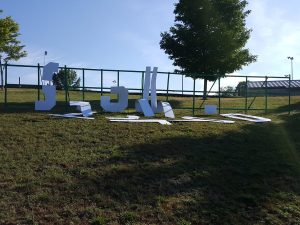 At some point between Friday night and Saturday morning, the sign that displayed the town's name was vandalized and destroyed.  There was some thought that the damage was caused by the storm that passed through the town and borough on Friday.  However, this is not the case since there have been eyewitnesses (including myself) that saw the sign standing tall Friday evening.
After speaking to Griswold Youth and Family Services Director, Ryan Aubin, the storm is not believed to be the cause of the destruction.  Aubin states that while he was cleaning up the debris, since there is a wedding in the park on Saturday and didn't want them to have the destroyed sign as a backdrop, he noticed that the letters were visibly torn and knifed.  He also stated that he had not reviewed the video as of Saturday morning but will shortly and share his findings with the First Selectman's office as well as Resident State Trooper, Adam Chittick.
There is currently a growing fund for a reward for information

LEADING TO THE ARREST

of the person or people responsible.  If you would like to donate to this fund, please write to us through the CONTACT US page our web site.
Contributors to the REWARD are the Following:    (check back to this story for an updated list and total amount available)
***THE REWARD IS FOR INFORMATION LEADING TO THE ARREST OF THE PERSON/PEOPLE RESPONSIBLE***
Mattos Insurance – $100
Dean's Corner Diner – $25
Wolverine Radio – $100
Licia Sas / Steve Peters – $100  
Surrell's Pizza and Pub – $100
Town of Griswold – $100