Griswold Selectmen Entertaining Idea of Closing Town Hall One Full Day Per Week To Assist With Budget Cuts
This article was published on: 05/7/20 2:53 PM by Mike Minarsky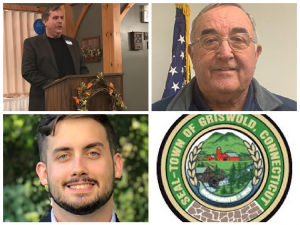 The Griswold Board of Selectmen held a special meeting on Thursday morning to discuss the budget and the suggested amount cuts that the Board of Finance has sent over. All three Selectmen were present on the Zoom meeting at 10 AM.
First Selectman Todd Babbitt said the Board of Finance has sent the town and education budgets back and wants to see an increase of no more than .5 mills including debt service which is already at .24 mill increase, which Babbitt said that they can only go up by .24 mil on the town side and it "didn't give us much room." As a reference point, 1 mill is equal to approximately $740,000. Selectman Grabowski commented, "That's impossible."
Babbitt mentioned a couple of cuts totaling 625,000 and an additional $110,000 out of the town budget. That reflects a $40,000 item for a grant writer and $70,000 for a Human Resources Director. On the capitol side of the budget, it was it was proposed to take $400,000 out of the Roads budget which Babbitt was comfortable with since they had received money last year from Connecticut Water from road work they did on Rixtown Rd as well as another section. Even with these cuts to the proposed town budget, the board would still have to cut an additional $50,000 to get where the Board of Finance wants them to be. Babbitt stated that there was a possibility of cutting some of the publi works fuel budget since gas is inexpensive right now but is leery when the state soft opens on the 20th, he isn't sure if gas is going to increase in price once people start "moving" again. Babbitt only suggested that $1,000-$2,000 could be cut from there.
There are other cuts such as a program from the Northeast Council of Governments that would possibly save $30,000 from the budget. The Selectmen also brought up the possibility of closing town hall a full day during the week. Babbitt is going to check with Julie Marcotte, the town's finance director to see what kind of savings that would bring.  Babbitt also commented that it may just be a temporary solution and not permanent.
You can email the town with any questions or concerns regarding the budgets until May 14th. That's when the new revised budgets are due back to BOF with the cuts. The email is Budget2021@griswold-ct.org List your name and address in the email as you would do for a public hearing. These budgets will not be going to a vote by the people. The BOF has been asked to approve the budgets and set a mil rate by June 15th, 2020.
The Selectmen will continue to discuss the budget at their regular meeting which is scheduled for May 12, 2020.
You can listen to the complete Board of Selectmen Special Meeting, unedited, from May 7, 2020 on a podcast on snsnonline.com's podcast page.