Griswold High Sports Weekend Update – 10/27/19
This article was published on: 10/28/19 2:21 AM by Mike Minarsky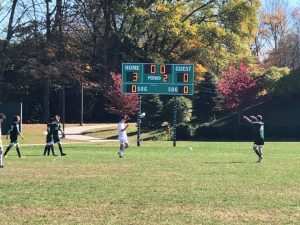 Explosive!  That's a good word to describe the Wolverines this past weekend when it comes to their performances in the world of sports.
Football:
The Wolverines had very little trouble with the Montville Indians on Friday evening in Montville with a 40-6 victory, a game heard live on SNSN radio.  This is also coming off a shut out victory of East Catholic High School (Manchester) the week before.  The Wolverines have amazed on defense allowing only the 6 spot against Montville, and had gone at one point holding opponents scoreless for 75 minutes of play since the Indians didn't get any points on the board until the 2nd half.  Big game for Logan Chappell who had almost 200 yards rushing in the first half alone.
Boys Soccer:
UPSET!  The Wolverines have had one the best soccer seasons in recent history, with the influx of freshman talent like Shutout King Dylan Fryer as well as Evan Merchant.  Saturday they had a tall order to fill facing St. Bernards at home, which was seemingly the only positive coming into the game with the Saints coming in winning 5 out of their last 6 .  Great defense got the Wolverines a 3-0 win, and another shutout for Mr. Fryer.  Griswold goals for Jacob Blanchard, Mauricio Serna, and Ashton Baltes  On to States!
Girls Soccer
The lady Wolverines had the weekend off and will play at Windham on Monday, 6 PM
Girls Volleyball:
The girls suffered a loss against Fitch on Friday and travel for a match at Valley Regional (Deep River) on Monday.
Boys Cross Country States:
The boys took 3rd overall and only missed 2nd by seven points.  Griswold Finishers in the state finals – Michael Strain 4th, Lucas Strain 8th, Jacob Strain 9th, Garrett Gasparino 22nd, Jackson Collins 34th, Adam Schumaker 53rd, Jimmy Arnold 86th  Great Job GRISWOLD!
Photo Credit: Scott Fryer