Griswold Board of Selectmen Will Have Very Different Look in 2018
This article was published on: 11/8/17 2:30 PM by Mike Minarsky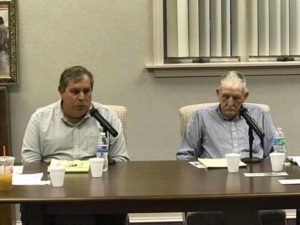 Election Day has come and gone and with that, new faces will come into office, and some are gone.  In Griswold, the Board of Selectmen is going to have a different look going forward.  There will be 2 Democrats on the Board and 1 Republican which is just the opposite of what the board did consist of.
The only member that moves forward from the current year is Steve Merchant.  He will continue as 2nd Selectman.  Merchant was actually had the highest amount of votes in town (1013), even more than the newly elected 1st Selectman, Todd Babbitt.  Babbitt is one of the new faces that will lead the Board and Ed Burke will round out the Selectmen as he received more votes than 3rd Selectman incumbent, Martin McKinney.  The Board of Selectmen Vote Counts are as follows:
1st Selectman:  Todd Babbit – 1007
2nd Selectman: Steve Merchant (1013)
3rd Selectman:  Edmund Burke (658)
Martin McKinney (620)
In other town races, Linda Cote is your town treasurer after defeating Attorney Stuart Norman. Steve Mikutel re-enters Griswold administration by winning a seat on the Board of Finance.  There are no changes to the Board of Education with Laurie Sorder, Mary Beth Malin, and Stuart Norman retaining seats.  Leona Sharkey and Valerie Pudvah will continue on as Tax Collector and Town Clerk respectively as both were cross endorsed.