Governor Lamont to Host Community Conversation on Workforce Development This Wednesday in Willimantic
This article was published on: 02/25/20 12:36 PM by Mike Minarsky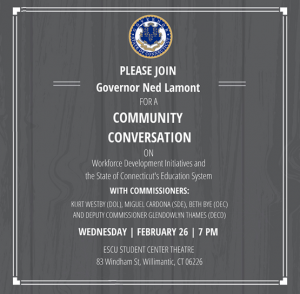 (HARTFORD, CT) – Governor Ned Lamont today announced that he is inviting Connecticut residents to participate in a community conversation on workforce development and education issues that he is hosting at 7:00 p.m. on Wednesday, February 26, 2020 in the Student Center Theatre on the campus of Eastern Connecticut State University in Willimantic.
The forum will give residents an opportunity to speak directly with the governor and discuss efforts the state can take to ensure that Connecticut's education system is training its students with the skills needed to obtain high-quality, good-paying jobs with growing businesses. The event is open to the public and tickets are not necessary. Seating is first come, first served. Anyone who would like an opportunity to ask the governor a question should arrive about 30 minutes prior to the start of the event in order to submit their name on a sign-up sheet.
"Economists project that by 2025, our state will need 70 percent of its workers to have received some kind of post-secondary training or education," Governor Lamont said. "Closing this skills and credentials gap is a critical component to growing our state's economy and will tear down the barriers to economic opportunity that block too many of Connecticut's residents. I look forward to discussing these issues with our state's residents and hearing their thoughts."
Several state agency leaders will also participate in the forum, including Department of Labor Commissioner Kurt Westby, Department of Education Commissioner Miguel Cardona, Office of Early Childhood Commissioner Beth Bye, and Department of Economic and Community Development Deputy Commissioner Glendowlyn Thames.
Strengthening Connecticut's workforce development system has been a top priority for Governor Lamont. In October, he signed an executive order directing the creation of the Governor's Workforce Council. The group, which held its first meeting in November and is comprised of leaders in the fields of business, education, nonprofits, and government, is working to ensure that Connecticut has the most aligned, high-quality, and equitable workforce development system in the country.
During the 2020 session of the Connecticut General Assembly, the governor proposed legislation reestablishing the Office of Workforce Competitiveness as an independent office led by its own executive director. The renewed office will ensure the state provides every resident with the education and training needed to secure a good job in a growing economy by establishing a unified state strategy, launching key initiatives, overseeing workforce data systems, and convening and aligning members of the workforce ecosystem. The legislation, which is contained as a section within Senate Bill 8, is currently under consideration by lawmakers.
Eastern Connecticut State University is located at 83 Windham Street in Willimantic. The Student Center Theater can be found by identifying item 33 on the campus map.