Glasgo Pond Drainage Releases Vehicle
This article was published on: 05/24/16 10:38 PM by Curt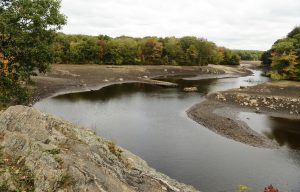 During the process of draining the Glasgo Dam, officials have discovered a vehicle at the bottom.
The vehicle was discovered after officials began investigating what appeared to be an oil sheen in the dam. The car was not easily visible as it was under dark water and at the bottom of the dam.
It is unknown how the vehicle ended up there, or how long it has been there. Officials are attempting to get the Department of Energy and Environmental Protection to remove the vehicle. At that time, officials will be able to determine what type of vehicle it is, and hopefully how long it has been at the bottom of the Glasgo Dam.
The $5.8 million dam repair project is expected to be completed by December.