Former Jewett City Man Arrested On Multiple Charges Including Protection Order Violation
This article was published on: 11/23/18 3:51 PM by Mike Minarsky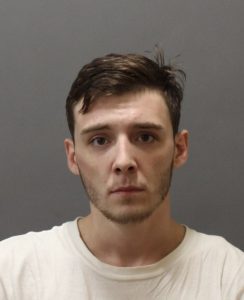 Officers recognized the vehicle and believed the male party was 24 year old, Michael Murtha who is reportedly homeless his last known address was in Jewett City. Murtha was located in a vehicle that is unregistered with an improper registration plate on it. It was known that Murtha was indeed the Defendant of an active restraining order with a resident that lives in the Moosup Gardens Apartments. Murtha was ordered out of the vehicle which he tried to explain he had permission to be in because he was waiting for a ride. Murtha was informed again that there was an active Order of Protection against him and that he was not allowed on the property.
Murtha was arrested and transported back to the Plainfield Police Department . It was confirmed that an arrest warrant had been signed for Murtha's arrest for a previous domestic incident that had occurred on the November 18, 2018.
Murtha was charged with Violation of Restraining Order and 1st degree Criminal Trespass.. he was arrested for other charges stemming from the Nov 18th arrest including 1st degree Burglary, Larceny , Criminal Mischief, 3rd degree Assault and Risk of Injury of a Minor. Murtha was held on a total of a $100,000 bond and scheduled to be arraigned at the Danielson Superior Court on all charges.
Wolverine Radio last reported Murtha being arrested on Oct 15 for drug possession and driving an unregistered vehicle