FIVE SOCIAL SERVICE AGENCIES SHARE $6.7K FROM JEWETT CITY SAVINGS BANK FOUNDATION
This article was published on: 01/24/19 4:52 PM by Mike Minarsky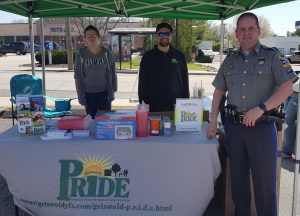 JEWETT CITY, CONNECTICUT, January 24, 2019… The Jewett City Savings Bank Foundation has awarded a total of $6,700 to support the projects of five area social service agencies. Announcement of the grants was made today by Kevin Merchant, president and CEO of Jewett City Savings Bank.
Griswold PRIDE was awarded $2,000 to sustain medication collection efforts and to support a mobile collection event. In Putnam, Interfaith Human Services received a $1,500 Foundation grant to support the Diaper Bank and other programs for low-income families.
In Jewett City, Thames Valley Council for Community Action (TVCCA) was granted $1,200 to provide winter boots for children from low-income families. The ARC of Quinebaug Valley in Danielson will use its $1,000 grant from the Foundation to help purchase and install GPS systems in its vehicle fleet. Also, South Woodstock's Northeast Placement Services will purchase computer workstations with its $1,000 Foundation award.
"Many families and individuals in our communities rely heavily on these agencies and the services they provide," said Merchant. "We are pleased to be able to help."