Fire at Apartment House on Wedgewood Dr Under Control
This article was published on: 07/19/16 7:34 PM by Mike Minarsky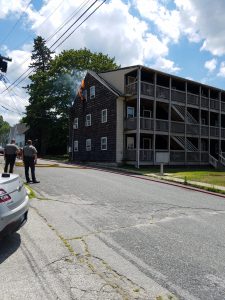 On Tuesday July 19th, a fire was reported an multi family apartment house on at 24 Wedgewood Dr, in Jewett City.  Flames we coming out of a window on the left side of the house, from a third floor apartment.  Jewett City, Griswold, Lisbon, and Taftville as well as Connecticut State Police and American Ambulance all responded.  The apartment that was on fire is lived in by the Huang family.  Mrs. Hong was in the shower when the fire started and was still wet when the entire family vacated the building. Mrs. Huang lives there with her husband Jack and their son.
Robert Clark, an eyewitness on scene, who also is the building manager stated that he saw Jack Huang throwing water on window sill and believes the fire started on the inside of the building.  After that, flames started pouring out the window.  Clark said that he called the owner of the building, Nancy Tong,  who lives in Glastonbury and would take an hour or so to get there.
There were so injuries reported and everyone had evacuated the building safely.