Fall 2020 High School Sports: NO FANS ALLOWED IN ATTENDANCE
This article was published on: 07/31/20 9:10 PM by Mike Minarsky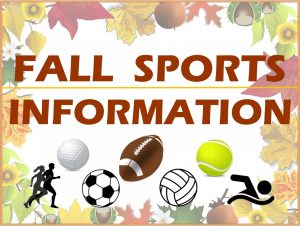 As we now know, the CIAC, which is the governing body for athletics in the state of Connecticut, has announced their guidelines for the fall season of high school sports.  Teams will play, however with restrictions.
The first official day of practice for all fall sports (Volleyball, Swimming, Cross Country, Soccer, and Field Hockey) will be August 27th and Football will start on August 17th.  The first day of practice with full contact allowed will be September 11.  All sports except Football will have a shortened season of only 12 games.  Football will have a 6 game schedule.  These contests will begin no earlier than September 24.
As far as fans are concerned, there will NOT be any fans allowed in attendance, which include parents and immediate family
According to officials within the ECC, there has been a joint agreement that there will be no fans allowed in attendance at any ECC Football game this year.
Below, is the information from the CIAC regarding fan attendance.  Please note as stated above, that the ECC has already determined the rule on fan attendance.
Spectator/Fan Attendance –
As an education-based experience, CIAC sports must consider the primary goal of maximizing on-campus learning for all students. Sport complexes and recreation athletic facilities are primarily utilized for sport contests. Conversely, school facilities are used as instructional areas when games are not being played. Due to the variety of fields used for interscholastic athletic competition, it is difficult to develop a one size fits all regulation. Therefore, it is CIAC's recommendation that each school and district consider how their athletic fields will be used throughout the school year and determine the appropriateness of spectator/fan attendance at your school. The CIAC understands that playing games without fans may be appropriate for some schools but not logistically possible for others.
Any allowance for spectators/fans should provide well marked areas that maintain social distancing and follow capacity guidelines established in Connecticut's Phase 2 reopening plan (https://portal.ct.gov/-media/DECD/Covid_Business_Recovery-Phase-2/0723Sports_FitnessCenters-_C2_V5.pdf) and current CDC guidance. The CIAC supports the plans established by school districts that direct the presence of adults on campus at this time. Notwithstanding the above, permissible spectator/fan attendance will be governed by local districts' current operating plan.