Fake Fedex Workers From Arrested In Plainfield In Apparent I-Phone Scam
This article was published on: 04/2/20 9:01 AM by Mike Minarsky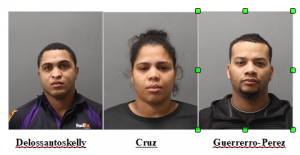 On March 31, 2020 at approximately 11:01 A.M., members of the Plainfield Police Department were dispatched to the area of Putnam Road in the Wauregan village of Plainfield, Connecticut for a report of a suspicious vehicle with New Jersey registration plates parked across from the residence. The caller stated that the two individuals in the vehicle were wearing surgical masks and gloves.
Officers made contact with the male operator and female passenger, both of whom were from New Jersey, and identified them as 24 year old Richard S. Delossantoskelly  and 27 year old Iliana Cruz. Both individuals stated the vehicle, a Toyota Corolla with New Jersey registration U29LXR, overheated and a friend lived close. Both were wearing FedEx uniform shirts but denied working there. Upon searching the vehicle multiple fraudulent Connecticut Operator's Licenses were discovered along with two new unopened iPhones.
Delossantoskelly and Cruz were questioned about the items recovered and could not give a valid reason for having them within the vehicle. Delossantoskelly was subsequently arrested and charged with two counts of Forgery in the 2nd Degree based on the fraudulent items discovered. Delossantoskelly was later released on a $10,000 bond.
At approximately 5:12 PM officers were dispatched to an additional Putnam Road address for a report of stolen package. The caller reported that an unauthorized purchase of an iPhone was made to her Verizon account on March 29th. The caller believed it was handled through Verizon but today the caller witnessed a male stealing a package off of her porch and fleeing to a blue Land Rover SUV bearing New Jersey Registration C96MBA. The package was believed to contain an iPhone.
Uniformed and plain clothes officers swarmed the area searching for the vehicle and parties involved. The vehicle was subsequently located on East Main Street in Central Village attempt to flee onto Interstate 395. Upon stopping the vehicle Delossantoskelly and Cruz were located as passengers. The operator was identified as 28 year old Waldo Guerrerro- Perez of New Jersey. The vehicle was subsequently searched where an additional new iPhone was located along with multiple Fedex shirts.
Guerrerro-Perez, who matched the witness description, was subsequently placed under arrest for Larceny in the 4th Degree. Cruz who became overwhelmed with anger on scene, failing to comply with officers verbal commands, was placed under arrest for Interfering with An Officer.
Cruz and Guerrerro-Perez were transported to the Plainfield Police Department where they were processed and both released on $5,000 bonds.
Delossantoskelly, Guerrerro-Perez, and Cruz are all scheduled to appear at the State of Connecticut Superior Court in Danielson, Connecticut on June 1, 2020. It should be noted the extended court date is due to alternative scheduling based on response to COVID-19.
The Plainfield Police Department would like to reinforce to the community in which they serve that the safety of the public is the department's highest priority and to contact the department at (860)-564-0804 to report any type of suspicious activity.