Even Though Annual Run Was Cancelled, Some Still Had A Reason To Ride
This article was published on: 09/20/20 1:24 PM by Mike Minarsky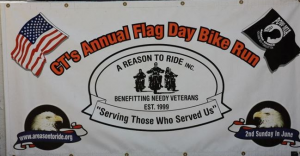 On Sunday Afternoon, approximately 150 motorcycles and riders made their way gently through the borough on their bikes. Bystanders didn't know what was going on with all the bikes and one even stated that they didn't recognize any of the patches on the riders as they went by.
Sunday was the day of the annual "A Reason To Ride" run that was cancelled due to COVID reasons as well as not being able to pull permits for the event. A spokeman for "A Reason to Ride, " Dan Barber said that he knew that some riders were going to perform the run anyway but "A Reason to Ride" as an organization and himself couldn't participate. "I am honored that some feel that it was important enough to do the run anyway."
"A Reason to Ride" is a non profit organization based here in Griswold that assists veterans with certain needs. The annual run and t-shirt sales accounts for over $30,000 that they use to assist veterans.
Although the run didn't happen this year, A Reason to Ride is still in need of your donations. You can send a check or money order to:
A Reason to Ride Po Box 767 Jewett City, Ct. 06351
You can visit their web site at https://www.areasontoride.org/