Easy Main St rt 201 Car va Pole Accident Causes Power Outage
This article was published on: 07/22/17 9:03 PM by Mike Minarsky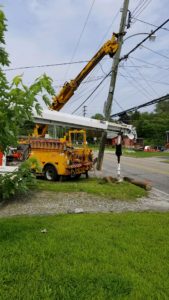 Saturday afternoon saw a flat bed truck collide with a utility pole on Rt 201 in the vicinity of 260 East Main St which caused down power lines and a handful of power outages.  Jewett City Dept of Public Utilities director Ken Sullivan estimates all power should be restored by 9pm Saturday evening. Frontier Communications is in scene to reset the pole.
Resident Jennifer Robillard posted on social media that the road closure by Connecticut State Police is from Balfour st to Monroe.
This is the 2nd utility pole that has been knocked down by a vehicle in the past month.  Earlier this month, a pickup truck struck a utility pole on Slater Ave that knocked out power until 2am the next morning due to issues with resetting the pole
A male was driving the truck and sustained no reported injuries.  The accident remains under investigation.
source: Al GEER (on scene)