Driver Discovers Can Can Flip if Driven At A High Rate Of Speed
This article was published on: 09/20/20 12:50 PM by Mike Minarsky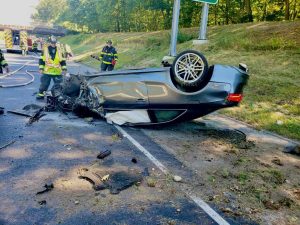 A 30 year old Norwich woman went looking for a new car on Friday.  She wanted to test out some of the features and capabilities of a car she just bought.  While testing the car, she took the car onto I-395, the Norwich resident, names were not released,  and brought the car to speeds of over 100 MPH just before exit 18 on the northbound side.
Witnesses did call Troop E State Police to alert them of a driver that they had observed driving in an erratic fashion.  After the crash, the driver did admit to seeing what the car could do.
The driver was given a summons for reckless driving and failure to maintain proper lane.  The driver was not hurt in the accident other than minor injuries.
Photo credit: Troop E Connecticut State Police