Dr. Mark Deponte Receives Endorsement From Democrats To Challenge Brian Lanoue For State Rep
This article was published on: 05/19/20 5:58 PM by Mike Minarsky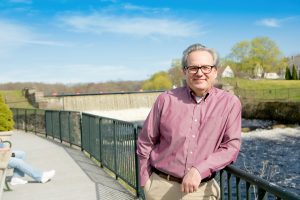 The Democratic Convention was held via a Zoom meeting on May 18, 2020, and the main goal was who was going to get endorsed at the Democratic nod for the 45th District house seat, challenging incumbent Republican, Brian Lanoue, who is seeking another term as the 45th District Rep.  Two candidates were looking for the endorsement of the Democratic party on Monday night.  Griswold residents, Pam Patalano and Dr. Mark Deponte.
Griswold Democratic Town Chairman, Leona Sharkey stated that the vote was a tie, 5-5.  Tom Sinkewicz, the convention chairman was allowed to cast the deciding vote.  Sinkewicz did just that and placed his vote for Dr. Deponte.
Sinkewicz, who is currently the Plainfield Board of Finance Chairman, said in a telephone call that his decision to vote for Deponte was not an easy one.  Sinkewicz said that he didn't know Patalano or Deponte well, if at all,but received excellent feedback from members of the Plainfield DTC as well as Plainfield residents who know Deponte as a doctor and that going forward we are "going to more medical expertise in the general assembly." He stated that he believes that Patalano has "great potential" as a legislature.  Sinkewicz said that he had met Pam and Mark both within the last 6 months.
It's not over, matter of fact, it's just beginning.  The endorsed candidate doesn't always get the win although they get the nod of their party.  In the last Plainfield First Selectman election in 2019, Kevin Cunningham was not the endorsed candidate for the town's republican party.  Vickie Meyer was endorsed by the Plainfield RTC as their candidate for First Selectman.  Cunningham went on defeat Meyer in the town's republican primary, then on to defeat Democratic incumbent Cathy Tendrich to win the First Selectman's office.
Patalano has the same idea.
You have to receive at least 15% of the convention vote in order to primary the endorsed candidate and with a 6-5 split in the end, there of course, is more than 15%.  Patalano did state to SNSN Radio that the paperwork is already signed and sent into the state to challenge Dr. Deponte.  Patalano said that she is excited and looking forward to campaigning