Detectives Investigate Human Remains Case in East Lyme
This article was published on: 08/17/16 9:07 PM by Mike Minarsky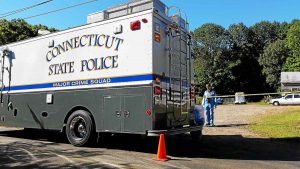 EAST LYME, CT (August 15, 2016) – Troopers and detectives worked throughout the day to try and discover how human remains ended up in a residential area in the Town of East Lyme.  
On Monday, August 15, 2016 at approximately 6:51 a.m., the partial remains of a human skull were located adjacent to Van Winkle Way in East Lyme.  East Lyme Police and Troopers from Troop E-Montville responded to the scene. The Office of Chief Medical Examiner was notified and also sent an investigator to the scene to assist.  Detectives from the Eastern District Major Crime Squad responded to the scene and assumed the investigation.   
During a search of the wooded area adjacent to Sleepy Hollow Road, detectives discovered more skeletal remains.  The remains were taken to the Office of the Chief Medical Examiner in Farmington to determine cause of death and possible identification through dental records.  The investigation is on-going. 
Anyone with information is asked to contact Troop E at 860-848-6500 or text "TIP711 w/ your info to 274637. All calls and texts will remain confidential.