Dembinski Leads Griswold Past Windham, 63-55 and Scores From Around the League
This article was published on: 01/6/19 5:39 AM by Mike Minarsky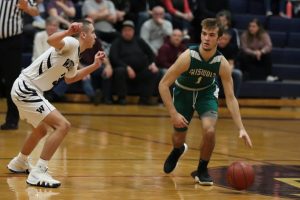 The Wolverines took one from the Whippets in Willimantic on Friday evening, 63-55.  Scoring was spread out evenly with Senior Forward Mat Dembinski leading all Wolverine scorers with 12.  Chris Roddy added 10 coming back from a concussion, CJ Mattson and Nick Gileau had 9, and quietly, Andrew Koziol had 8.
Koziol's father, Ted Koziol talked about his son's performance on the court this year.  "He's quietly averaging 8 points a game.  I couldn't be more proud of the kid especially since he was sick and coming back from 6 stitches in his eye.  He refuses to complain about anything, just does his job.
Jhakobe Watson led Windham with 26 points.
Griswold improves their record to 5-2 and will play Tourtellotte on Tuesday, Jan 8.  Windham drops to 2-3 on the season.  Next game for the Whippets will be at home, also on Tuesday evening as they host the Putnam Clippers.
Other scores around the league:
Tourtellote 68 Wheeler 51
Waterford 74 Bacon Academy 48