Danielson Man Passes Unmarked Police Car in No Passing Area, Gets Busted
This article was published on: 05/13/19 11:14 AM by Mike Minarsky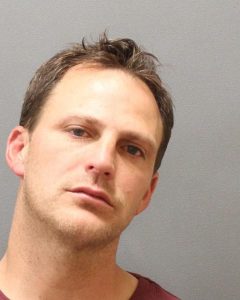 On May 11, 2019 at approximately 12:24 AM while on patrol a member of the Plainfield Police Department operating an unmarked cruiser was traveling south on Norwich Road in Plainfield, CT. While patrolling a 2002 Volkswagen Passat approached the officer's vehicle at a high rate of speed from the rear. The Volkswagen then passed the cruiser in a no passing zone at which time the officer initiated a motor vehicle stop.
Upon stopping the vehicle the operator 39 year old Richard Hall of Taft Street in Danielson exited screaming at the officer and approaching the cruiser in an aggressive manner. The officer exited his cruiser instructing Hall to re-enter his vehicle. Hall continued to approach the officer disobeying verbal commands at which point a struggle ensued. Hall was taken to the ground in the opposing lane of traffic and continued to actively resist. The officer subsequently gained control of Hall placing him under arrest. Upon searching Hall ten paper folds of a white powdery substance was located and later tested positive for Fentanyl. Upon searching the vehicle several open partially consumed containers of alcohol were located.
Richard Hall was subsequently charged with Interfering with an Officer, Drinking While Operating a Motor Vehicle, Possession of Narcotics, Passing in a No Passing Zone, and Operating an Unregistered Motor Vehicle. Hall was released on a $5,000.00 Non-Surety and is scheduled to appear at the State of Connecticut Superior Court Windham Judicial District located in Danielson, Connecticut on May 28, 2019.