Danielson Man Charged In Plainfield Fatal Motor Vehicle Crash
This article was published on: 04/2/16 3:18 AM by Mike Minarsky
On Ap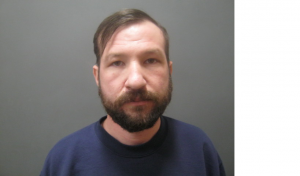 ril 1, 2016 at approximately 11:00 A.M., members of the Plainfield Police Department arrested Chad D. Whitehead (Age 27) of 15 Margaret Henry Road in Danielson for the charges of Manslaughter 2nd Degree with a Motor Vehicle and Felony Evading Responsibility involving a Death stemming from a lengthy investigation into a fatal motor vehicle crash.
On August 2, 2015 at approximately 2:00 A.M., members of the Plainfield Police Department were dispatched to a motor vehicle crash on Snake Meadow Road in the Moosup Village of Plainfield. The occupant, Michael J. Shong (age 29) of Dudley, Massachusetts, was pronounced dead at the scene. It was determined at the scene that the vehicle, a 2003 Honda Civic, was traveling southbound on Snake Meadow Road when it traveled off the road while negotiating a curve subsequently overturning the vehicle. At the time of the accident, it was believed that only Shong was in the vehicle.
The Plainfield Police Department initiated the investigation and determined that Shong was in fact the passenger and that the operator was Whitehead. Whitehead survived the crash and immediately fled the scene prior to police arrival leaving his friend, Shong, in the vehicle. DNA evidence inside the vehicle and video surveillance from locations visited by Whitehead and Shong immediately before the crash assisted the Plainfield Police Department in determining that Whitehead was in fact the operator. An arrest warrant for Whitehead was applied for and granted.
Whitehead was held at the Plainfield Police Department on a $100,000 bond. He is scheduled to appear at the Danielson Superior Court on Monday, April 4, 2016.