Couple Welcomes Newborn In the Most Peculiar Place
This article was published on: 08/27/20 4:22 PM by Mike Minarsky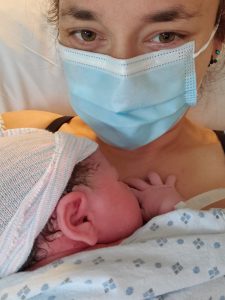 On Thursday morning, August 27, just after 10:00 AM, Dad was bringing an expectant mother who was in labor to Backus Hospital to welcome their baby into the world… and didn't get a chance to leave Mom in the car. Baby, had other thoughts.
On Thursday morning, Cheryl Littlefield of Griswold went into labor and her husband Jeff started in motion to get his wife to the hospital. On the way, Cheryl's water broke inside the car. As they got of the highway, Littlefield started driving fast in order to get his wife to the hospital to deliver their child. "Yea, he was driving like a crazy man passing cars and beeping at people." So fast that it got the attention of a Norwich Police Officer "He was flying" said Norwich Police Officer Daniel Goldberg. "As I pulled him over, he popped out of the car and said HELP." Littlefield described the situation and went over to see how Cheryl Littlefield was. "When I went over, she already had their baby in her arms. She delivered some point between getting off the highway and me stopping them in front of Dunkin' Donuts."
"Cop pulled us over and I had just pushed her out" said Cheryl Littlefield in a text message to her sister, Cindy Briggs.
Officer Goldberg, who was working the 2nd end of a double shift, gave Dad some pointers to keep the baby's airway clear, not to mention a few pro tips on driving. Goldberg then gave the Littlefield's a police escort to Backus Hospital. Even with today's technology and medical expertise, babies come when they want to come.
Welcome Paetyn Claire Littlefield, weighing 7 lbs 2 oz, born at 10:47 AM. Expect big things from this little one. She made an impact on minute one of her life. Mom and Baby are doing fine according to her sister. Dad is doing well too, probably heart still racing a bit, but guaranteed he's driving a little slower today.