Convenience Store Robbery Suspect in Custody
This article was published on: 12/8/16 4:39 PM by Mike Minarsky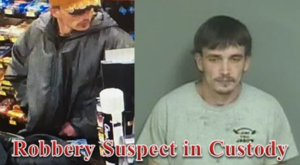 Orange, Connecticut. (December 8, 2016): A Stratford man is in custody after he was identified as the suspect from the Route 15 rest area robbery in Orange several weeks ago.
On November 24, 2016 at approximately 3:15 a.m. troopers from Troop I-Bethany responded to the Route 15 (Merritt Parkway) northbound Orange rest area and Alltown gas station/convenience store for a reported robbery that had just occurred. Upon arriving on scene, the Alltown gas station employees told troopers that a white male suspect had entered the store and demanded the money from the cash register. The suspect took an undisclosed amount of cash before leaving and fleeing the area in a vehicle. A weapon was implied, but not displayed and nobody was injured in the crime.
      Detectives from the Central District Major Crime Squad responded to the scene and assumed the investigation. Through their initial investigation they were able to obtain surveillance footage of the suspect. After several weeks they were able to positively identify the suspect who was taken into custody early this morning.
Arrestee: James Walsh (DOB: 4/7/82)
47 White Street, Stratford, CT 06615
Charges: Robbery 3rd Degree
Larceny 6th Degree
Bond: $250,000
Court: Derby Superior court – 12/8/16