Connecticut State Police Troop E Searching For Information in East Lyme 7 Car Pile Up
This article was published on: 02/21/20 11:44 PM by Mike Minarsky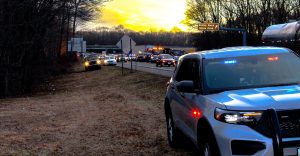 On February 20, 2020, at approximately 5:58 a.m., Troopers responded to and investigated a seven vehicle accident on I-95 southbound in the Town of East Lyme. A tractor trailer was traveling in the right lane of two when it merged into another vehicle which was traveling in the left lane. The vehicle in the left lane become disabled, and the tractor trailer evaded the scene. The other vehicles, and an additional tractor trailer, then collided with each other.
Anyone who witnessed the accident or may have additional information is urged to contact Trooper Lovell at Troop E by calling 860-848-6500 referencing case number 2000080599.
Assisted by Waterford and East Lyme/Flanders E.M.S., Firmin's Garage, Guy's Oil Service Station, and the Connecticut Department of Transportation State Farm Service Patrol.
Source: Ct State Police Troop E