Connecticut State Police seek information following a stolen merchandise incident in Putnam
This article was published on: 09/16/19 5:11 PM by Mike Minarsky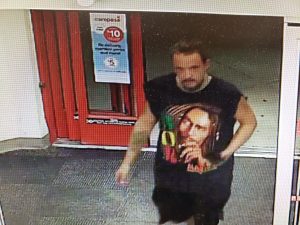 On September 9, 2019 at approximately 10:28PM, Troopers out of Troop D-Danielson initiated an investigation after $500.00 worth of facial healthcare products were stolen from the CVS Pharmacy located at 57 Providence Pike in the town of Putnam, CT. It was learned during the course of this investigation that the larceny occurred on September 8, 2019.
The suspect is described as a white male wearing a Bob Marley tank top shirt with dark hair made up into a "man bun". The suspect was also witnessed operating an older style Jeep Cherokee color gray/blue with a tire attached on its roof.
Anyone with any information regarding the suspects identify is asked to contact TPR. Picard at Troop D-Danielson at 860-779-4900 x2015. All calls will be kept confidential.