Coach Arremony Gets 500th Win as Plainfield Boys Basketball Head Coach
This article was published on: 12/16/17 9:29 PM by Mike Minarsky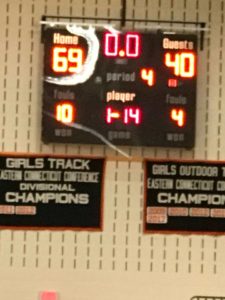 The Plainfield Panthers won on Saturday.  They beat Montville at home, 69-40.   However, that's not the story here.  Coach Bob Arremony got his 500th win as a Head Coach on Saturday which is something that only few have done. More Locally, Gary Kinel of Griswold hit that plateau.  To put this milestone in a little more perspective, Kinel was Arremony's coach at Griswold.
According to Plainfield High School Athletic Director Jan Voland, she said during a after game party for Coach Arremony, "He's an awesome coach, the kids love him, and just a local legend."
It only took the better part of 38 years for Coach to hit this milestone.  He also coached a couple of years of JV basketball before becoming PHS head Coach.  Voland also added  "He went from being a Wolverine to a Panther."
Wolverine Radio will compile more information, check this post for updates.