Clark / Matheson Lead Attack Against Lyman Memorial, Win At Home 49-31
This article was published on: 01/6/19 9:51 PM by Mike Minarsky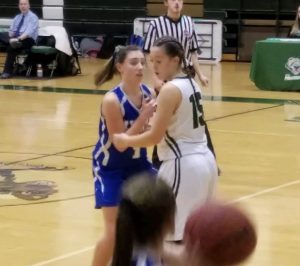 Junior Hanna Clark had a team high 14pts and Freshman Sonja Matheson had a double double with 13pts and 14 rebounds to lead the Wolverines to a 49-31 home victory against Lyman Memorial High School.  The girls are now 3-0 in the ECC and 6-2 overall. LMHS drops to 0-2 in the conference and 2-5 overall.
Although Lyman made a mini run in the 2nd to go into the locker rooms only one point down 21-20, the Wolverines started the 2nd half on a 10-2 run, Lyman only scored 4 points in the 3rd.
Up next for the the Lady Wolverines is Parish Hill in Chaplin, who Griswold defeated earlier this season on opening night.  It wasn't easy though as the game went to OT in their 51-42 win.  During the OT period, the Wolverines completely dominated going on a 9-0 run for the win.