Central Village Man Tracked And Captured After He Stole A Car From Area Dealership
This article was published on: 06/28/19 11:01 AM by Mike Minarsky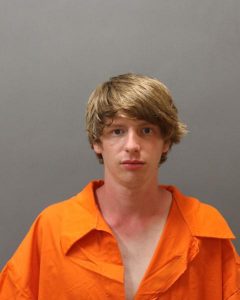 On 06/27/2019 at approximately 1:22pm, the Plainfield Police Department was notified that an individual had stolen a vehicle from the mechanical maintenance garage area at the VIP Auto Sales located at 11 Main St in Moosup, CT. It was reported that a male individual was seen running along the store front and then into the garage where he got into the vehicle. The individual then backed the vehicle out of the garage and proceeded to exit the parking lot northbound on Main St. The stolen vehicle was a blue colored 2010 Toyota Scion TC which was for sale at the store. The individual was captured on the business surveillance footage which shows and appears to be a white male with blond hair wearing a black shirt and gray pants.
While police were at the business investigating the incident, an officer with the Plainfield Police Department working a traffic construction detail on Norwich Rd in Plainfield observed the stolen vehicle traveling southbound on Norwich Rd. As the vehicle approached the officer, the vehicle turned around to elude police contact. The vehicle proceeded at a high rate of speed northbound on Norwich Rd and police were unable to locate the vehicle at that time.
At approximately 2:40pm, the Plainfield Police Department was notified by the business owner that after he posted the stolen vehicle on social media he received a notification that the stolen vehicle was parked on the side of Plainfield Pike in Plainfield. Police located the vehicle in the area of 114 Plainfield Pike at that time. While conducting a neighborhood canvass a resident reported he observed a male individual matching the description seen in the surveillance footage from the business walking westbound on Plainfield Pike a short distance from the stolen vehicle. The resident reported that he observed the individual at about 2:15pm.
Moments later, the officer who initially observed the stolen vehicle on Norwich Rd at the construction detail observed a male individual matching the description from the surveillance footage walking through the construction area. Responding officers located the individual a short distance from the construction zone. The individual was identified as 23 year old Kevin S. Lynch of 4 Putnam Rd in Central Village and matched the description of the individual in the surveillance footage.
A canine unit with the CT State Police arrived at the location of the recovered stolen vehicle and conducted a canine track which lead officers' to the area where Lynch was located and detained on Norwich Rd approximately 2 miles from the stolen vehicle. Additionally, Officers obtained video surveillance from another business in Moosup in which Lynch was observed to stop at while using the stolen vehicle.
Kevin S. Lynch was taken into custody at approximately 3:23pm and charged with Larceny 3rd Degree and is scheduled to be arraigned in the Danielson Superior Court on 06/28/2019.