Car vs Motorcycle Sends One to Day Kimball
This article was published on: 05/19/20 10:08 PM by Mike Minarsky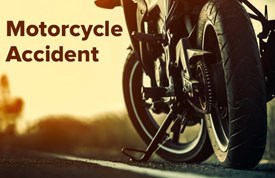 On May 19, 2020 at approximately 1:51 PM, Officers from the Plainfield Police Department along with members of the Oneco Fire Department, and American Legion Ambulance responded to a car versus motorcycle crash on Sterling Hill Road in the Moosup section of Plainfield, Connecticut.
Initial investigation determined that a Harley Davidson motorcycle being operated by 63 year old Kevin Keenan of West Warwick Rhode Island was traveling westbound on Sterling Hill Road when it struck a 2016 Toyota Camry being operated by 46 year old Alice McKissick of Moosup which was attempting to enter a private driveway.
Keenan was transported to Day Kimball Hospital via American Legion Ambulance for treatment of suspected injuries associated with the crash.
This motor vehicle crash remains under investigation by the Plainfield Police Department.