Car vs. Motorcycle Sends Dayville Man to Hartford Hospital via Lifestar
This article was published on: 07/22/16 12:51 AM by Mike Minarsky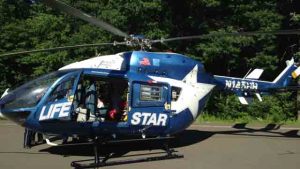 On July 21, 2016 at approximately 5:40 P.M., Officers of the Plainfield Police Department along with members of Atwood Hose Fire Department, and American Legion Ambulance were dispatched to a report of an accident in the area of South Walnut Street and Wauregan Road (Rt. 205). It was reported that the accident was between a single car and motorcycle.
Upon Officers arrival members of Atwood Hose were already attending to the operator of the motorcycle who was identified as Roland Daigneault Jr. of Dayville. Daigneault was unresponsive at the scene, where he was transported by American Legion Ambulance to Backus Emergency Department in Plainfield, where he was later transported by Life Star to Hartford Hospital.
A seventeen year female was operating her 2009 red Honda Civic along with her seventeen year old female passenger. The Honda Civic was traveling north from South Walnut Street across Rt. 205 to North Walnut Street when she was struck in the rear quarter panel by Daigneault who was traveling westbound on Rt. 205 on his 2015 Harley Davidson.
Rt. 205 was temporarily closed down to one lane while Officers conducted their investigation. Daigneault's Harley Davidson was removed from the scene and the roadway was opened back up.
This accident is still under investigation.