Car Hits Pole on Squaw Rock Rd in Moosup, Then Flee the Scene
This article was published on: 06/19/16 4:22 PM by Mike Minarsky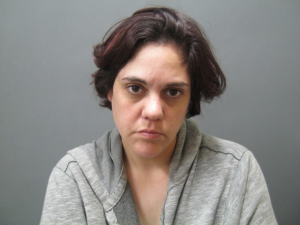 On 06/19/2016 at approximately 2:35 A.M. members of the Plainfield Police Department, Moosup Fire Department and American Legion Ambulance responded to a Car vs Utility pole accident, in the area of 688 Squaw Rock Road, Moosup, CT.
The caller stated that the two occupants of the vehicle got out and began to run southbound on Squaw Rock Road. Shortly after police arrival, they were able to locate 2 individuals that were hiding in the woods, in the area of 605 Squaw Rock Road. Officers located multiple cans of "Bud Light" beers in the area where the accident occurred and inside the vehicle.
The female who was identified as Kristina Lyn Benson, age 34, stated that she was the operator of the red colored 1995 Honda Accord. Along with Benson was her boyfriend Dylan Leblanc, age 20, who Benson stated was a passenger in the vehicle at the time of the accident. Both Benson and Leblanc were offered medical assistance at the scene and they both refused transport to the hospital. Benson was placed under arrest and was found to be in possession of marijuana, THC "dabs" and drug paraphernalia.
Benson was charged with Failure to Maintain Proper Lane, Operating Under The Influence of Alcohol and or Drugs, Evading Responsibility, Interfering, Possession of Less than ½ ounce of Marijuana, Possession of a Controlled Substance and Possession of Drug Paraphernalia. Benson was later released on a $5,000 non-surety bond and was given an appearance date of 07/05/2016 at the Danielson Superior Court.
This accident is still under investigation.