Bus Service Returns To Plainfield After 2 Decade Public Transit Drought
This article was published on: 08/17/20 7:28 AM by Mike Minarsky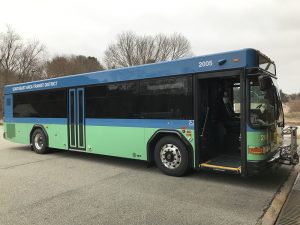 PLAINFIELD – "Persistence – and teamwork- pays off."
That was the reaction from Sen. Heather Somers, Rep. Anne Dauphinais. Rep. Brian Lanoue and First Selectman Kevin Cunningham and many of the parties involved from local and state level, as they welcomed the news that bus service will return to Plainfield next month.
The town has had no bus service for two decades, but with a current plan to begin Sep. 8, Northeast Connecticut Transit District will operate a circulator route in Plainfield providing connections to the north and connections with Southeast Area Transit District Route 9 at Lisbon Landing. Plainfield riders will have access to the rest of the area SEAT serves, including Norwich and the shoreline.
"We are thrilled with Plainfield's decision to rejoin the North East Connecticut Transit District," said Dennis Solensky, Transit Administrator at Connecticut Department of Transportation. "The new service to Plainfield and the surrounding areas, which the Connecticut DOT is supporting, represents an important part of our commitment and plans to enhance transit service in eastern Connecticut." NECCOG Executive Director John Filchak, one of the region's most vocal advocates for a route expansion, said SEAT General Manager Mike Carroll was invaluable in the getting the plan finalized, while local legislators, including state Sen. Heather Somers, R-Groton, and state Reps. Anne Dauphinais, R-Killingly, and Brian Lanoue, R-Griswold, helped push the plan over the finish line. "They were intimately involved and pushed hard for this; it wasn't a political party or a district issue," Filchak said. "This was a collaborative effort with Plainfield leaders going back years also working toward this goal."
"We're so pleased for the people and businesses of Plainfield," said state Sen. Somers, R-Groton, whose district includes Plainfield.  "We refused to give up on this effort to bring service back. Ending Plainfield's isolation was a top priority, and we will soon accomplish that goal. We are grateful to the state Department of Transportation for listening to the people and taking this common sense action."
"I am pleased to say after much persistence and hard work from the Legislators, First Selectmen and DOT, transportation will be returned to Plainfield." said state Rep. Dauphinais, R-Killingly, whose district includes part of Plainfield.
"This is a milestone for Plainfield. Expanding bus service this far north opens doors for the people here. Plainfield residents now have greater access to job opportunities and overall transportation for the first time in many years. I think that this is going to be a big help for our senior population in Plainfield also. We wanted to increase convenience for people, and when you make new services available to residents you accomplish just that." said state Rep. Lanoue R-Griswold, whose district includes part of Plainfield.
"After not having any bus services since 1998, and five years of working on this transit proposal, the town of Plainfield now will have access to not only Northeastern Connecticut but all of Southeastern portions of the state.  This is a cooperative effort of so many parties involved and its startup will signal affordable alternative transportation for so many residents of Eastern Connecticut and access to many more businesses. We welcome the opportunity to provide positive transportation options to the residents of Plainfield and all of the connecting towns." said First Selectman Cunningham.
"SEAT was happy to be involved in this process and is pleased to partner with Northeastern CT Transit District and CTDOT to expand transit opportunities for customers in the region." – Michael Carroll the SEAT general manager.
For more information please contact: NECCOG at 125 Putnam Pike, Dayville, CT 06241 or phone at 860-774-1253 or fax at 860-779-2056 or reach them at their website http://neccog.org/