Burnt Out Marker Light On Truck Leads To Traffic Stop and Drug Arrest Of Sterling Resident
This article was published on: 01/11/20 9:40 PM by Mike Minarsky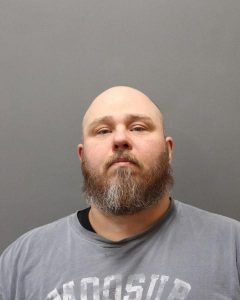 Due to multiple narcotic related complaints on January 10, 2020 the Plainfield Police Department implemented targeted interdiction in the villages of Plainfield, Wauregan, Moosup, and Central Village. The following arrests were subsequently made by patrol and detective units:
At approximately 9:24 PM members of the Plainfield Police Department conducted a motor vehicle stop on a 1997 Black Dodge Ram on Norwich Road in Plainfield due to a non-illuminated registration plate light. The operator was subsequently identified as forty year old, Michael Paquette Jr., of  Sterling. During the stop Officers became suspicious that Paquette was in possession of illegal drugs in his vehicle.
The Officer and his K-9 Vail, a male yellow Labrador trained in narcotics detection was used to sniff Paquette's vehicle where K-9 Vail alerted to the presence of narcotics. Paquette was subsequently requested to exit his vehicle at which point a systematic search was conducted resulting in the locating of numerous baggies of cocaine prepackaged for sale.
Michael Paquette Jr. was subsequently placed under arrest and charged with Possession of Narcotics, Possession With Intent to Sell Narcotics, and Failure to Illuminate Registration Plate. Paquette was subsequently released on a $2,500 bond and is scheduled to appear at the State of Connecticut Superior Court in Danielson, Connecticut on January 27, 2020.