Brooklyn Man Arrested For Possession With Intent To Sell, Again
This article was published on: 11/2/17 3:39 AM by Mike Minarsky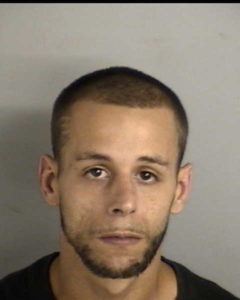 On 09/14/2017, the Connecticut State Police executed two search and seizure warrants for 29 year old Joseph Delcastillo  and his residence of #3 Quebec Square in Brooklyn, CT. Troopers seized crack cocaine packaged for sale and Delcastillo was arrested and charged with several narcotics related offences. Delcastillo appeared in Danielson Superior Court the next day and was released on a promise to appear.
On 10/04/2017, Troop D QLTF Troopers encountered Delcastillo on the corner of Elm Street and South Main Street in Brooklyn where they suspected he was dealing crack cocaine. After speaking with him and patting him down, Delcastillo was released from the scene. Shortly after, Troopers found crack cocaine on the ground where Delcastillo had been standing. Troopers responded to #3 Quebec Square in Brooklyn to arrest Delcastillo but he ran into his apartment via the front door and then fled out the back door on foot.
Troopers submitted an arrest warrant for Delcastillo on 10/24/2017 regarding this incident to the Danielson Superior Court. Several days later, the court approved the arrest warrant for the charge of Possession of Crack Cocaine with Intent to Sell.
On 11/01/2017 at approximately 8:45 PM, QLTF Troopers were conducting surveillance on #3 Quebec Square in Brooklyn in a "soft car". Troopers were waiting for Delcastillo to depart his residence so they could arrest him on the strength of the arrest warrant.
At this time, Troopers spotted Delcastillo depart #3 Quebec Square and begin walking toward their vehicle. Troopers grabbed his arms in an effort to hand cuff him but he pulled his arms away. After a brief struggler; Troopers were able to place handcuffs on his wrists behind the back.
Delcastillo was charged with Possession of Crack Cocaine With intent to sell and Interfering with a Police Officer and held on a $25,000.00 cash/surety bond and is scheduled to appear in Danielson Superior Court on Thursday morning, 11/02/2017.
Members of the CT State Police are committed to combating drug activity in the "Quiet Corner" and anyone with information regarding the illegal sale of narcotics and /or synthetic marijuana are encouraged to call the Troop D QLTF anonymous Tips Hotline at 860-779-4950 or message the QLTF Facebook page